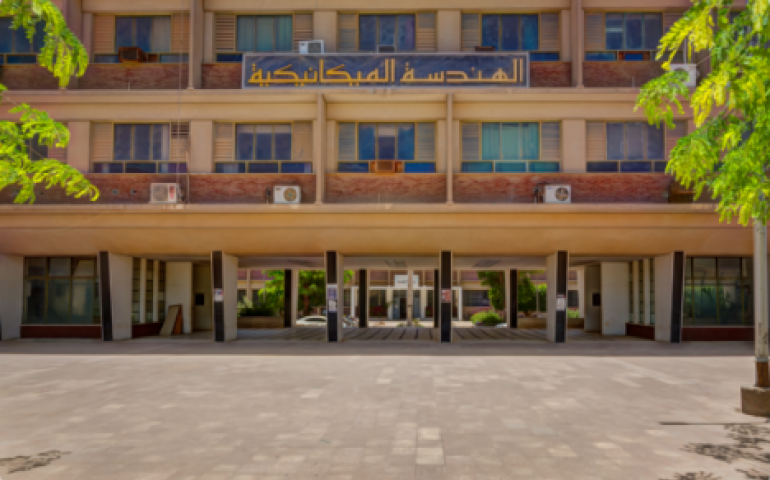 Overview
The faculty of Mechanical Engineering at AUN aims to offer its students the skills and knowledge related to mechanical design and production, Mechanical Power, Mechatronics, and the application of Mechanical Engineering in agriculture in accordance with the international academic standards in order to prepare its graduates for the market place.  Mechanical engineering graduates from AUN are fully aware of the societal and environmental requirements, and they are conscious of the engineering professional ethics.
The Mechanical Engineering Committee has 3 main objectives which are:
To assist students to be flexible in response to the changing demands of industry and technology.
To prepare its students for solving problems, generating alternative solutions, and evaluating possible solutions.
To enhance motivation and provide opportunities for the development of personal qualities by allowing its student to choose a major between power engineering, mechatronics engineering, design and production engineering, and application of mechanical engineering in agriculture during their 4th year.
Mechanical Engineering offers 4 Majors
Power Engineering : In 1957, the Power Engineering Program started as the main specialization in this department. It is concerned with the rmo-fluid sciences, turbo-machinery, energy conversion, and utilization. The main target of the power engineering educational program is to support the graduates with related engineering applications such as power stations, Heating-Ventilating and Air-Conditioning systems (HVAC), internal combustion engines, hydraulic machines and turbo-machinery, and renewable energy systems. The graduates have adequate engineering concepts and tools to design, operate, and maintain such systems.
Mechatronics Engineering: Mechatronics engineering is an interdisciplinary program offered for senior mechanical engineering students at the faculty of engineering, AUN. In the academic year 2000/2001, the Mechatronics program started with 22 students. This specialization was a new field over the Egyptian National Universities. Mechatronics is concerned with the blending of mechanical systems, electronics, sensors, software, PLC & microprocessors and automatic control theory as well as engineering topics into a unified framework that enhances the design and process operation. Interdisciplinary faculty members from the mechanical and the electrical engineering departments teach related courses in this program. The main target of Mechatronics educational program is to create Mechatronics engineers capable of developing high intelligent and energy-saving systems through design and performance enhancements by integrating mechanical and electronic components, software and automatic control theory such as robots, CNC machine tools, intelligent sensors, intelligent actuators, automatic handling, robust controllers, intelligent end effectors.
Mechanical Design and Production Engineering Section: The mission of this section is to qualify the mechanical engineers to perform design procedures for machine components and mechanical systems, to select proper materials, and to make a decision for the manufacturing process plan. The department of Mechanical Engineering at AUN encompasses a large workshop comprising almost all machines to manufacture products in different areas of production. Quality inspection and assurance are enhanced in a number of courses in the fourth year and highly qualified computerized laboratories have been established for precision measurements. The graduates of design and production section of Assiut University are trained to cope with all challenges.
Applications of Mechanical Engineering in Agriculture: This educational program is concerned with the following applications: environmental control, agriculture process engineering, tractors, and agriculture machines. The main target of this educational program is to support the graduates with related engineering applications such as food processing, design, and maintenance of farm machinery and material handling systems.