Geographic Information System Lab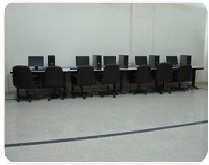 Teaching courses of Geographic Information Systems.
Contents : Number of (20) computer device from module (Dell OptiPlex 380) which specifications (intel Core2Duo ,2GB of Ram).Number of (1) Plotter device from module (HP Designjet T1200) to print a geographical maps.Number of (1) Data Show device in addition to show board for it.
GIS Lab supervises graduation projects of Geographic Information Systems. Also provide training courses in Geographic Information System :Introduction to GIS, GIS Desktop Application Developer, GIS Web Application Developer, Web Design and Development (special offer for students).Also provide printing all types of maps.