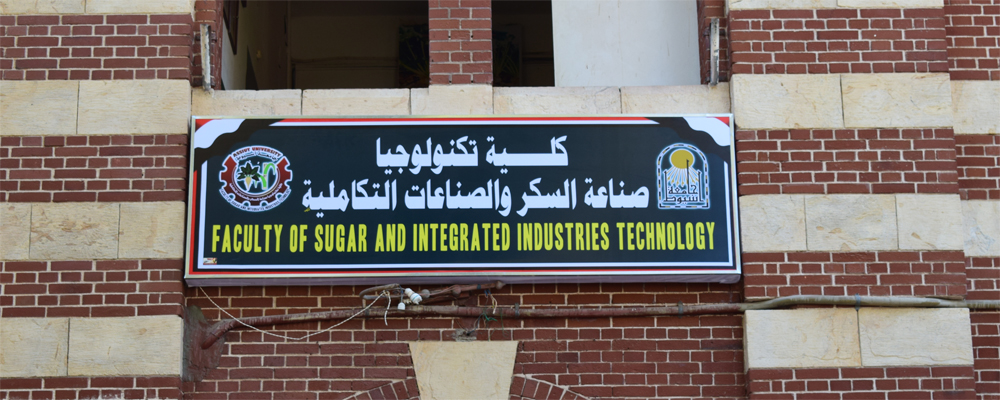 Welcome to Faculty of sugar and integrated industries technology (FSIIT)
Faculty Vision
To achieve the adopted mission, the Faculty's vision for the future depends on the following principles:
The Faculty provides high quality state of the art educational program.
The graduates are targeted to serve our stakeholders in accordance with the national strategies.
The Faculty adopts applied research programs closely related to the sugar industry and its integrated industries.
The Faculty relies on high academic standards in terms of education, research, and community services.
The Faculty believes in mutual cooperation with the beneficiary industries to maximize gains of the industrial society.
The Faculty adopts the concept of maximizing the benefit of its resources.
The Faculty recognizes cooperation, devotion and pride as their main values that should be adopted by all personnel.
Continuous development of all resources of the Faculty whether physical, staff, assistants, or students.
Faculty Mission
Faculty of sugar and integrated industries technology (FSIIT) is the only graduate research Institute of its kind in Egypt and the Arab region. As a unique member of the nationally is driven from the Assiut University's devotion to education, research and community services. The Institute is meant to be a graduate research institute targeting the promotion of knowledge and multidisciplinary research in areas related to industrial activities with particular emphasis on sugar and its integrated industries. The Institute's strategy is based on in-depth cooperation with stakeholders and industries interested in hiring graduates with specific professional skills and balanced multidisciplinary field to participate effectively in sugar industry.
Faculty Objectives
To carry out the mission stated herein, in coherent with our vision, the following strategic goals are meant to be achieved:
To provide high-quality undergraduate program in science and technology of sugar industry and integrated industries.
To offer superior graduate programs in technical multidisciplinary professional fields that respond the needs of Egyptian industries, as well as to the needs of the Arab region, Africa and the world.
To engage in research that advance learning and provide solutions of stakeholder's problems.
To cooperate with industrial and governmental institutions to transfer knowledge in science and technology.
To offer continuing education and training programs aiming at personnel enrichment, professional upgrading, and career advancement for its graduates of the those graduated from other related scientific background; and
To make available to national communities and public agencies the expertise of the Institute in a consistent manner with the primary teaching and research functions and contribute to social, intellectual, and economic development in Egypt, Arab region, Africa and the world.