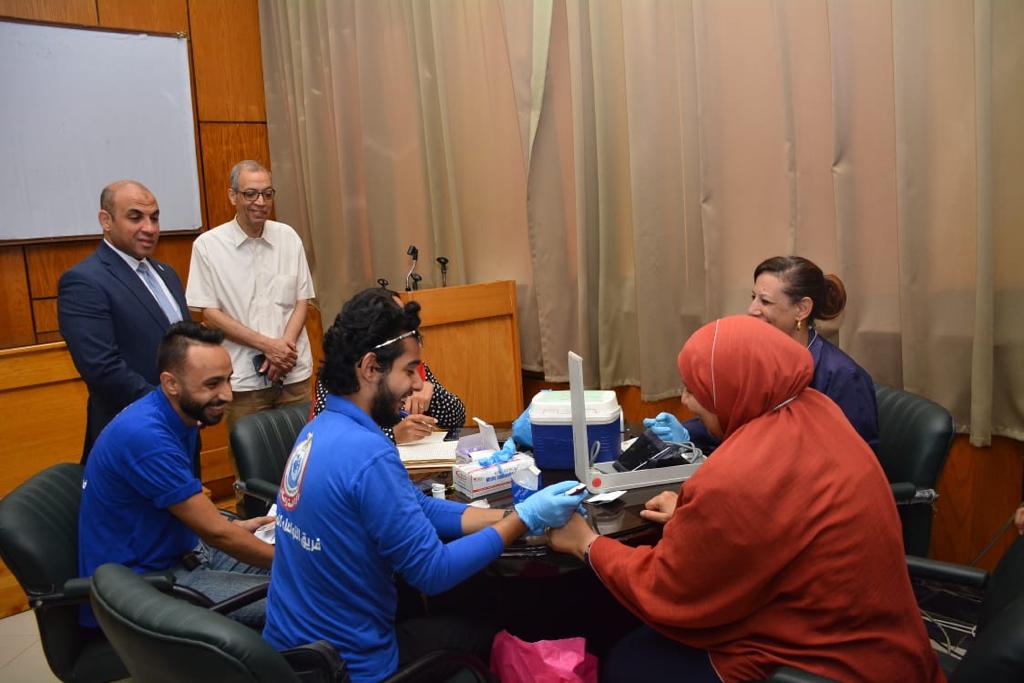 Prof. Al-Minshawi states: "The University is performing its role in community service and development to contribute to promoting the health system."
      Assiut University, led by Prof. Ahmed Al-Minshawi, President of the University, hosted the "100 Days of Health" initiative, launched by President Abdel Fattah El-Sisi. It seeks to expand the provision of services for public health initiatives and intensify its work within a short period of up to 100 days, while ensuring that the available services are within the required quality for all target groups. The campaign will continue throughout the month of September.
       Prof. Ahmed Al-Minshawi declared that the 100 Health Days initiative is the crystallization of the services of the presidential initiatives 100 Million Health, praising the efforts of the political leadership in consolidating the principles of public health, eliminating waiting lists, and providing early detection of all chronic diseases that can affect the Egyptian citizen. The 100 Health Days initiative contributed to strengthening the health system and achieving comprehensive health care by focusing on combating diseases that most affect citizens, in order to reduce its prevalence and mortality rates.
    In this context, Prof. Mahmoud Abdel-Aleem, Vice President for Community Service and Environmental Development, inspected the centers of the 100 Million Health Campaign, which has begun its work from the administrative building at Assiut University from September 4 to 7, and continues throughout the whole month in the university's various colleges. Dr. Mahmoud Abdel-Aleem illuminated that the campaign has screened about 250 beneficiaries over the past three days with the aim of providing early detection services for chronic diseases such as: diabetes, high blood pressure, kidney disease, and liver disease. The campaign also supports the state's interest in upgrading its services in the field of public health, especially for those who needs it the most.